Hi all, i thought i would drop a line and talk about an amazing fortnight in which my corydoras have spawned at least 7-8 times and show no sign of slowing down.
The fish are kept in my Discus community tank with various other fish, i have had these four for about 2 years and they are fully grown, i also added 4 more younger fish earlier on in the year but these fish have not been observed spawning.
It started about 5weeks ago when i cleaned out my external filter, this filter is oversized for the tank and i get away with cleaning it after 3-4 months, as i removed the sponge cartridge i noticed something wiggling in the muck at the bottom, it was scooped out and placed in a clean tupperware bowl.. to the familys suprise we had a baby corydoras about 1 inch in length. My daughter called him spotty and he was placed in a 100litre growout tank along with 80 juvinille Ram cichlids.
Days after this i started to notice eggs that had been eaten of the glass, they left a round mark on the glass and it was obvious the corydoras were breeding but no eggs were surviving. one night (12/8/07) i caught the corydoras at the very beginning of spawning and settled down to watch the show.. WOW the two males chased the female until she came to a rest and then the males offered their vent infront of the females mouth, she the procedes to mouth his vent in the well known T position. I could observe the female form her pouch from her ventral fins and between 1 and 4 eggs were layed into this pouch. She then set of to find a suitable spot to drop them, in my community tank this was usually low down amongst the java moss, a few where laid on the glass and wood but 90% were in the moss.
I spent three and a half hours removing eggs as soon as she dropped them, they are extremly sticky and i rolled them out of the moss and into a water filled bowl, where possible i took the moss aswel to save the egg from disturbance. The fish were not affected by my presence in the tank and even swam through my fingers while chasing each other.
When finished i placed the bowl with around 50 eggs on the top shelf of my fishroom at a water temp of 82f, unfortunatly i did not add an airstone and most of the eggs fungused.. 6 hatched and are doing fine.
I then decided to give the sterbai a tank of there own and moved them to a 35litre on the bottom shelf of the fishroom on the 19/8/07, this shelf is low down and the temp is usually lower (75f). After a couple of days the fish were spawning 22/08/07, this time there was a woolen mop and the fish layed most of their eggs into this high up. I now remove the eggs from the parent tank,let them hatch in a 1 litre tub and then give them a tank of their own when feeding.
The last two spawns have been left with the parents as i do not have the room for any more fry, this experiment will allow me to see if the adults eat their fry,they show no interest at all in their eggs. After this week i will place the adults back into the community tank and then try to make tank space for about 250 corydoras!!!!!!
I will list below the frequent spawning dates and the eggs produced. the fry seem very hardy and i do not think iv had any losses, they love microworm and brine shimp and as you see they develop fairly quickly.
12/8/07 - 6 eggs hatched from the first spawn
22/8/07 - 88 eggs now hatched.
25/8/07 - 40 eggs now hatched
27/8/07 - 103 eggs now hatched
28/8/07 - 60 eggs will hatch today??
1/9/07(today) laying eggs next to the last lot as i speak..
PARENT FISH
T POSITION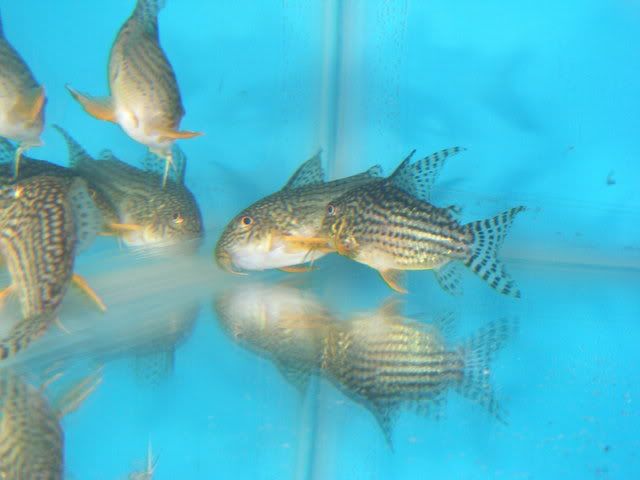 OLD EGGS WITH NEW EGGS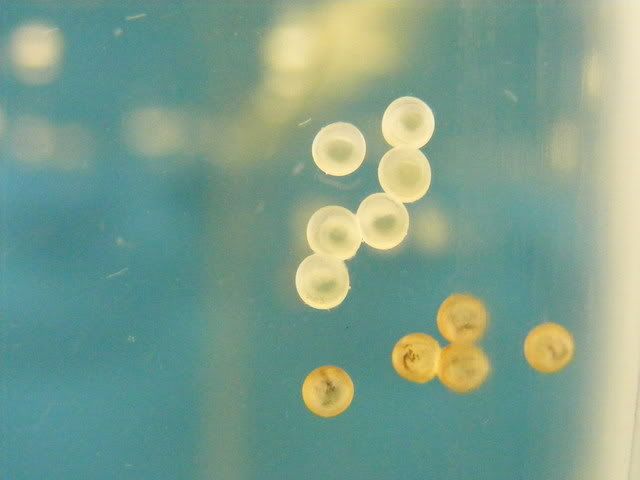 HALF A DAY OLD FRY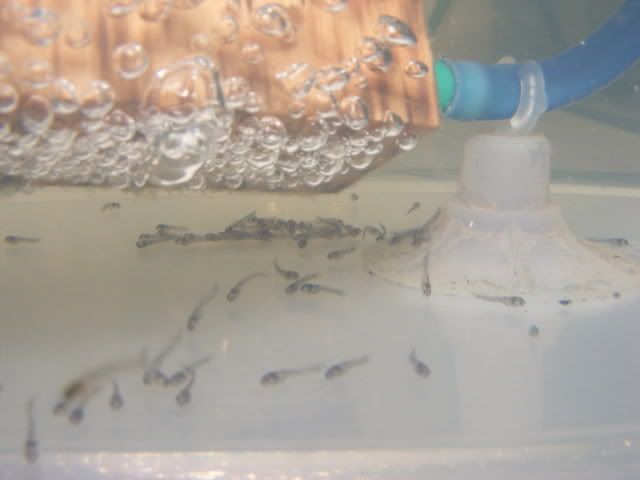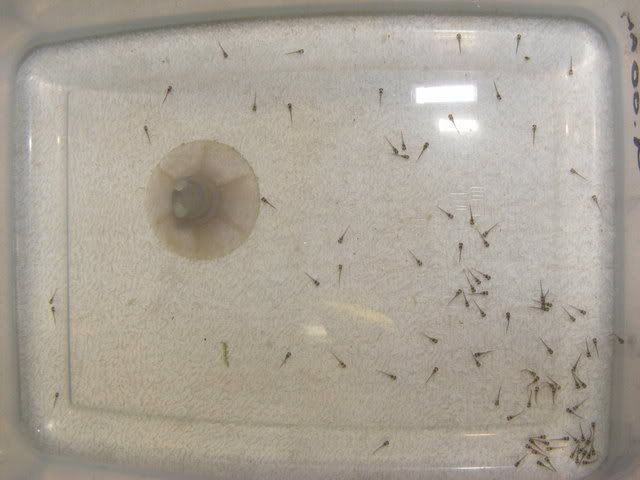 FRY..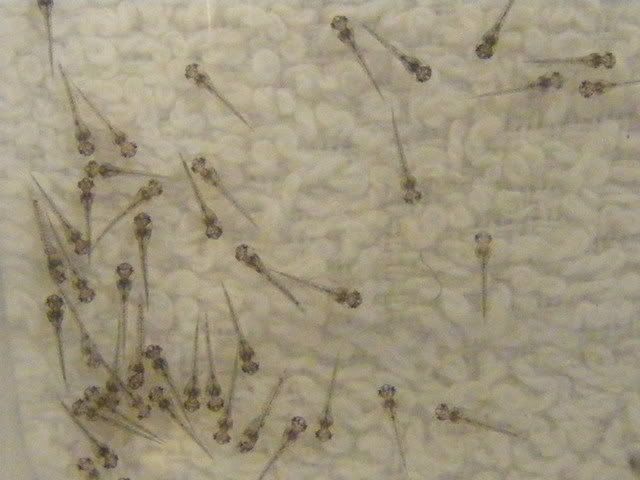 THREE WEEKS OLD FRY